Here's a tidbit about me, I loathe antiques! I can't stand the thought of furniture from places I know nothing about, I have no idea what energy is attached to the pieces.  Of course, I have the tools to clear the energy from homes and items in the home, but it still bothers me. I have many friends who love antiques and shopping consignment stores and we have ongoing jokes about it.  I don't judge anyone for liking antiques or second hand items, but it is just not for me.  I share this as my recent actions revealed how this is true for me.  Let me share…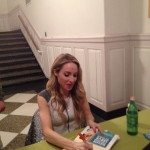 Gabrielle Bernstein was kicking off her book tour in Norwalk, CT on April 10th. I saw the invite and said I'm going! But after looking at my calendar I realized I had way too much scheduled for that day.  The thought of rescheduling, canceling appointments and disappointing people was too much! I didn't want to upset anyone!  You know how we women are, not wanting to ruffle any feathers!
Well, the weekend before I was sitting in my living room staring at the TV stand that I had for the past 15 years, and said I guess I will just keep it. Since moving to Connecticut 5 years ago, I searched high and low for a new TV stand and end table set, but nothing worked. It was either the wrong color or price. During that time, a friend had given me a temporary sofa while I shopped and found something I loved.  My two matching end tables no longer fit so I gave them to my parents for their basement. Another friend gave me an end table in the color I wanted but not the exact style. I found another end table in the same color scheme to go with the other one, but again it wasn't really my style. Yes, both items were second hand from people that I knew but I still had to clear the energy. These changes represented what was going on for me during that time period.  I was struggling to find what made me happy.  Even though I had just made the move to Connecticut and my business was growing and I was dating someone, nothing felt right.  Heck, it just seemed like the same old shit just a new area.
But now that's all changed and I've shifted to finally feeling happier and more peaceful in my life. However, my space wasn't honoring how I felt, that is until this weekend. Last summer I finally bought a new sofa.  One that was much smaller than my previous sofa. I thought ok, next would be a new TV stand, but I decided it wasn't worth it, I know that in the next two years I will be moving, so why bother? However, I felt unhappy with the fact that the furniture didn't match.  Then I remembered those old end tables I had given to my parents. I had a feeling they would fit just right now. I couldn't stand waiting so I rushed  over to my parents that weekend. I came home like a kid after Christmas! I put the tables together and perfecto! They worked perfectly and looked fabulous, even better than I expected.
I realized how much I hated those temporary end tables and drove them to the Goodwill the very next day! I didn't even wait for any help I loaded up those two end tables, books, frames and more stuff than I knew. It felt wonderful and freeing! But I sensed there was one last thing to go.  I had a large wall clock that had stopped working weeks ago.  I was hoping to find its replacement before taking it down from the wall because I just hated the idea of a bare wall.  But I realized it was worse holding on to something that didn't even work! I knew I had to let it go.
Before (dark tables didn't love)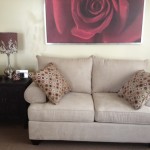 After (lighter and brighter

)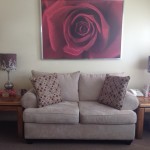 After depositing all my old stuff, I realized I had just dumped off a lot of old energy through the pieces I had collected during a not so positive stage in my life. Now, my room is filled with items I purchased and love.  It looks great!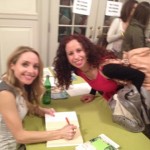 So, how does this relate to meeting Gabby Bernstein? Once I connected the dots to how I operated during that time period – pleasing everyone else, overworking and doing things that made other people happy – and how it ultimately affected my space for years later, I decided that my actions needed to change. Meeting Gabby was something fun to do, tickets cost next to nothing, I would get to attend a lecture, meet Gabby and get my book signed.  Why wasn't I doing this? I decided it was time to put me first and say yes to things I love even if it's just a small event like a book signing and meeting someone I admire. You see these little action steps are so powerful, it's the little patterns you change daily that become permanent.  You never know how it will show up in your life so make sure you are making the best decisions for you today!
Do you have a similar story, please share?
WANT TO USE THIS ARTICLE ON YOUR WEBSITE OR FOR A GUEST BLOG POST?
You can, as long as you include this complete blurb with it: "Feng Shui expert, Christine Bove, inspires successful women to allow their creative energies to flow into their environments, images and mindsets to improve their confidence, bring clarity to their future and set them up for success.  Sign up to receive her 5 Feng Shui video tips at www.christinebove.com."