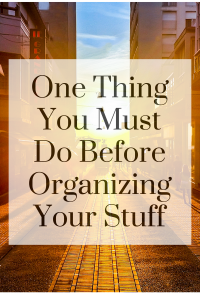 There's one mistake I see people make over and over when it comes to de-cluttering and organizing. First, they are inspired by a magazine article or from seeing an organizational tip online or TV.  Then, They get so excited that they run out to the Container Store or Bed Bath and Beyond to buy their new organizing tools!
But this is a big mistake! Buying an organizing system before you've gone through your stuff and decided what you are keeping and what you are tossing is a huge waste of time and money!
Several years ago, when I quit my corporate job and was finishing my Feng Shui certification, I got a part-time job at the Container Store in Westchester, NY. It was such a cool store and the perfect atmosphere for me to learn all about organizing. I learned so much from my time at this store and one of the main things I learned is how people shop, what they buy, and the mistakes they make with getting organized.  Quickly I was able to spot who was going to be successful with their organizational project and who was not.
The Container Store is a fun place and you could go crazy in there, but spending a lot of money doesn't guarantee you will solve your organizing problems  Containers and shelving units aren't cheap!  Average sales were $150 on plastic!!
I'll give you an example of the most common pattern. At the end of the school year, moms would come looking for solutions for their kids artwork and projects from the school year. They need large boxes to hold all this stuff. This solution could cost them $50, but most of the time they would spend $150 plus on storage solutions just for their kids school projects, Money that could go to summer fun!
Let me go deeper here. I understand the guilt, you want to keep everything your child made  - it's their talent, gifts and memories. But what I would ask moms was to consider that keeping all these items in boxes until the child graduates college and moves into their first apartment (if you're lucky)  - a small apartment that doesn't have room for their stuff.  So, it remains your stuff to take care of and cart with you wherever you move.
But consider this, once you put in the box and store it away who is going to look at it? No one, its in a box! So, what purpose is it serving?
What's the solution then? Go through all the items and select just the important things to keep,  the items you know have special meaning to your child and/or to you. But instead of just throwing it in the box consider other options like displaying artwork in their room or in a playroom giving them the sense that their work is important to the whole family. By keeping and storing only things you love saves you money, space and time. Plus, it eliminates the stress of feeling like you have too much stuff (even if it is stuffed in a box!).
This applies to everyone and whatever clutter you need to organize. First, you determine what you love and why you are keeping it and what doesn't serve a purpose and can be thrown or given away.  Once you've created the pile of what you are going to keep then you can head to the Container Store and ask for organizing solutions based on your need and size of your storage.
You will save yourself time, money, gas and stress!
What's your biggest struggle when it comes to managing your clutter? Leave a comment below.  I read and answer all your comments.
WANT TO USE THIS ARTICLE ON YOUR WEBSITE OR FOR A GUEST BLOG POST?
You can, as long as you include this complete blurb with it: "Feng Shui expert, Christine Bove, inspires successful women to allow their creative energies to flow into their environments, images and mindsets to improve their confidence, bring clarity to their future and set them up for success.   Sign up to receive her 5 Feng Shui video tips at www.christinebove.com."