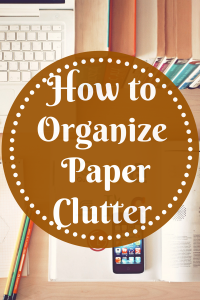 It's 2015 and it's hard to believe with all our technology gadgets paper clutter is still one of the major complaints I hear from clients. From magazines to the mail, paper clutter is everywhere!
So what can you do to manage it?
Let's break down the top clutter complaints:
Mail
Bills/Financial Papers
Magazines Catalogs
Notes, post-its, flyers
Mail Clutter:
The most common issue with mail clutter is that most of it is junk mail. The solution is getting off the mailing lists. Here's where you need to sit down and schedule an hour to go through and list the places to call and take your name off their mailing list. Most of the time the root of clutter is promotional ads from the credit card companies. It will just take one call to your credit card company to opt out of the section for mailing promotions. Be sure to do this when you sign up for a new card. You can also check out the National Do Not Mail List.
If you make donations, be sure to read the privacy section (in small fine print and opt- out of additional promotions. Depending on how much junk mail it may take a couple of months to clear it up). Be mindful when you sign up for anything to politely let them know that you would like to opt out from additional promotions. This will save you headaches later on.
Learn to deal with it right away so it will save you time in the long run. As soon you pick up your mail go through and sort it. Have a spot to put bills, invitations, social events and chuck the junk mail in the shredder and recyclables.
Magazines and Catalogs:
Create a space where you are going to read these within the month. I like to keep mine in my TV room and read them while I am having breakfast. Consider taking them to work and read during your lunch hour and when you're done pass them along to your co-workers. Have an expiration date to read within 30 days and then discard it. Tear out any recipes or inspiration images and keep in a folder.
Financial Papers:
How you organize your financial papers reflects your relationship with money.  If your money flow isn't flowing too well then its time to organize your financial papers. If you need help, check out my program 27 Day Wealth Accumulator Challenge
So how do I organize it all?
The key is to find organizing solutions that fit your style and space. Let's take a look at some possible solutions.
Have a small space in your kitchen or hallway? Here's a system to pin up your organizing tools, have a calendar, a box for social gatherings, mail, etc. Be creative with your organizing.
Maybe you don't have space this big, but I like how they use the cubby holes and use desktop organizers on the counter. Is there anything in this picture that might inspire how you can use what you have in your space?
Do you have some extra wall space to create your mail system? Be even more creative by popping color here. If you know where this space falls on the bagua you can align the colors with the gau.
You can purchase these pieces separately from Pottery Barn to a create a theme that works for you.
Setup it up all in one room. Do your laundry, sort your paperwork and have craft time all in one place.
Finding the solution that will work for you will take time. Be creative with your ideas. There's no right or wrong, start with the stuff you already have in your space and try it out.
Now I want to hear from you!
Comment below and tell me what your past struggles have been with paper clutter and any solutions you can share.
Love and Success,

WANT TO USE THIS ARTICLE ON YOUR WEBSITE OR FOR A GUEST BLOG POST?
You can, as long as you include this complete blurb with it: "Feng Shui expert, Christine Bove, inspires successful women to allow their creative energies to flow into their environments, images and mindsets to improve their confidence, bring clarity to their future and set them up for success. Sign up to receive her 5 Feng Shui video tips at www.christinebove.com."