Do you come home from work feeling drained? Do you feel so wiped out that all you want to do is eat dinner and sit in front of the TV? Have you noticed the kind of environment you are in all day? I know how hard it can be to remain a positive person when your workplace is full of negative nellies. You spend more time talking about office politics and what's not working.  When you finally get out for happy hour you find you stay in the negative by talking about what is frustrating and not what can be the solution!
If you can relate to this, you will love this week's video. I'm sharing some simple but powerful tips to help protect your energy, some that will probably be new to you.  These powerful tips will help you enjoy your job or find a new one with an environment that supports your energy.
Click on the video to watch.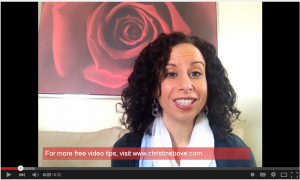 Now that you've watched the video, I want to hear from you…
What challenges are you having in your work place?
Share your insights and what changes you are going to make in your daily routine below.
I look forward to reading all your comments below.
Love and Success,