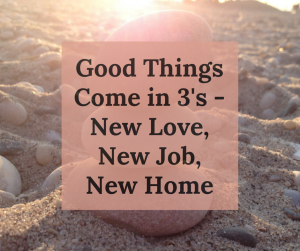 It's interesting the pattern I tend to see in my clients.  It goes something like this: Find love, move and begin a new career.
Of course the order varies, but they all seem to go along with each other. One client sold her house during the lowest point of the real state market, moved to another state, found a job, met the man of her dreams and got married. Another client found true love, moved to another state and found her perfect job. It's happened again with my client, Regina, who found true love, a perfect job, moved into a new apartment and got engaged 3 months later. These clients will tell you Feng Shui was the solution. But it didn't happen over night.  These clients worked with me over a series of several sessions.  I don't want to give the wrong idea that one session and a simple rearranging of your space will fix things in a day!  Their success came as they recognized they needed a shift, made the shift both in their mindset and space, and made efforts to do so.  This work combined together lead to greater and quicker results.
My clients will often come back to me when they are ready to take the next steps in an area of their life. Regina had called me in several years ago when she was starting her own business and asked me to help set up her office and classroom. After working together, she experienced great results so she knew she needed to hire me when moving into her new apartment last year.
Regina was going through some changes and it was clear she was ready to step up to the next big thing in her life. She felt ready for a new direction in her career path that would also help her to increase her income and she was ready to find her true love.
Once she found a great apartment with lots of potential, we began to work on finding clarity on what it was she really wanted in her life.  We discussed what was working and what wasn't. I find that when I am working with my clients they feel so comfortable with me that they become really honest about what's going on in their heads, their feelings and the thoughts they are not sharing with anyone else. It is when they become honest with me, that I can begin to see what is blocking them.  I can usually see this playing out in their space.  With this clarity, we are able to work together to remove the blocks and make the necessary changes to move forward.
In Regina's space I could see the confusion around her career from the messy kitchen table, to the lack in her wealth area. She had so much potential but it wasn't fully present in her space.
At the time she was struggling to create an office space in her apartment and her kitchen table was not working out. It's challenging when you don't have the space to have a separate office and the only ideal space is the kitchen. I often teach my clients, to change the area of your work and eating space with different placemats or table cloths. This is especially true for wooden tables that create a lot of yang energy and can give off a restless feeling making it uncomfortable to sit. Do you notice that anywhere in your space? Adding sit cushions, placemats or table cloths can shift that energy so slow down and be present.
Just these simple touches made a great difference in Regina's kitchen making it easier to relax and enjoy her space. You can't tell from the picture but this is the room she entered when she walked through the front door. It's key that when you walk into your home you enter into a room that is beautiful, cleaned and organized so you feel calm and happy to be home.
What do you see when you walk into your home? How do you feel?
Next we moved on to her other goal of increasing her abundance. Increasing our abundance always involves a shift in our mindset and changing our beliefs around money. In Regina's space I tapped in on two things that would help shift the money flow. One is the stovetop jets. This is a very traditional Feng Shui rule, the burners on our stove top represent the avenues of abundance in our lives. It's important to rotate cooking on all four burners. It's also important to keep your stove clean and operating in good condition. Here I recommend getting new burner drip pans (it's easier than cleaning them;). This is essential to keep the money chi flowing.
But let's go deeper into the wealth area. Regina set it up nicely but it was off balance. One side was lacking and this seemed to resonate with Regina. I suggested she add more plants that were full or abundant, a fountain, and include pictures of family and friends, plus artwork to balance out the other side of the wall. She had space and we found accessories she could use to create a story on the ledge helping to bring in the feeling of abundance.
After: She later added a beautiful fountain that she loved and fit nicely into her space.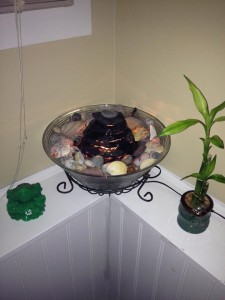 A closet of confusion?
Wow, Regina had a woman's dream come true – 3 closets!  However these closets desperately needed organization.  We ended up organizing one for clothes by season, another for shoes and another for household items.  In Feng Shui, our closets represent our subconscious mind and these were falling in her relationship and creativity areas.  Disorganized closets represent confusion and organized closets, clarity.
When it comes to love, Regina's bedroom was screaming a loud Feng Shui NO! Bed's should never be up against a wall, allowing entry only on one side.  This gives the message loud and clear I am not open to love. This is one of the rare times I actually help clients move furniture but we did it and immediately you could feel the difference. We added another side table from another room and the result was a much more open and grown up feel in her bedroom.
To spice up the room and attract that loving partner, Regina added some beautiful and fun bedding that attracted her true love and I am happy to say a year later she is engaged!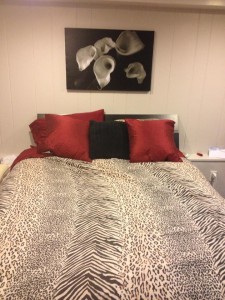 I could see all the work Regina put into achieving her goals and it was more than rearranging her furniture. She said it best in her testimonial: 
"My results: After working with Christine, I began to see shifts taking place, first I found a great guy who I fell in love with,  moved in with him, found a new job and got engaged three months later. Although, it took a year and a half  everything came together better than I could have planned!  I learned to be grateful for what I had which isn't easy to do. I also learned to be happy single and to be okay with not having the perfect job and to be PATIENT! Again not easy! I also learned to not compare and be grateful for my path and thankful that is different from others."

It's all a process and along the way the negative beliefs and setbacks come up and need to be confronted and replaced. By having faith and being willing to make changes you can achieve your goals.
If you feel overwhelmed, book a Feng Shui consultation and let me help you clear the clutter and get organized. Click here to set up a complimentary 15 minute consultation to chat with me about your home. Once you fill out the application you will receive an email to schedule your complimentary session.
WANT TO USE THIS ARTICLE ON YOUR WEBSITE OR FOR A GUEST BLOG POST?
You can, as long as you include this complete blurb with it: "Feng Shui expert, Christine Bove, inspires successful women to allow their creative energies to flow into their environments, images and mindsets to improve their confidence, bring clarity to their future and set them up for success. Sign up to receive her 5 Feng Shui video tips at www.christinebove.com."