Do you attract or repel money?
Last week, I was taking a walk in the park when I found dollar under a tree. I thought…wow…money does grow on trees! Wishful thinking?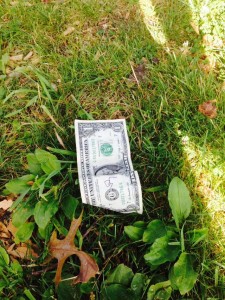 Ironically, this dollar appeared on the day I launched my 27 Day Wealth Accumulator Challenge. Love the message the universe was sending me, about being open to receive money from all sources.
I posted the picture to facebook and received this from my friend Carolyn.
"Question for you, Christine…   Whenever I find a bill, I move it to a place where someone else will easily see it, figuring they need it more than me. Am I "repelling money" by doing that?"
I loved this question and in this week's video, I give my answer.  Make sure to watch it as it will help you get clear on whether you are doing things that are actually repelling money from coming into your life.
Watch the video below:
I'd love to hear how you are applying these Feng Shui tips,  leave a comment on the blog.
Love and Success,

PS- If you like this video and ready to write a new Money Story check out my new program the 27 Day Wealth Accumulator Challenge.