What's Coming Up?  

Don't miss my upcoming events!

Watch your in-box for more details…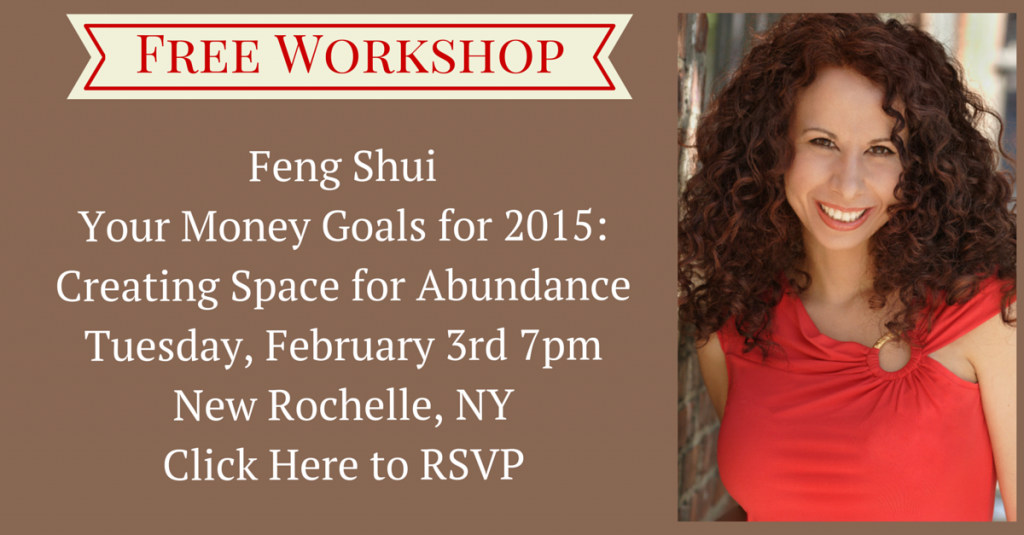 My Financial Possibilities, LLC and Christine Bové, Feng Shui Expert Present:
Feng Shui Your Money Goals for 2015: Creating Space for Abundance
Tuesday, February 3rd (DATE Changed due to SNowstorm!)

7:00 – 8:30 pm
Hosted by  Aaron Kershaw Photography  at
538 Main Street, New Rochelle, NY (entrance on Division Street)
What if 2015 was the year you finally achieved your money goal?
As we begin the new year, you are probably setting a money goal for yourself in 2015 and determining to work harder and get a raise in order to reach it.
But this is your first mistake! It's not just about working harder and getting a raise to increase your income, the most significant thing you need to do is shift your mindset around money, the way you view and treat your money, to finally realize your financial goal.
From how you organize your wallet, your checkbook and financial papers to how you take care of your home and your material things all impact your money flow.
Setting a money goal is more powerful when you get clear on the ways you block your money flow and the beliefs you have around earning money and spending it.
The answers can be revealed in your home. I'm not talking about a the size of your home, I'm talking about how you value your space and the possessions you use everyday as well as how you take care of your financial papers, your checkbook, your wallet, etc.
If you don't look at your patterns and behaviors around money you can't expect to attract more into your life.
I admit it's not always easy to review your money mistakes, it can be difficult to face the decisions we've made, but when you are willing to correct what's not working you open up the doors to change.
So what if this year you took a new approach to setting your financial goals for 2015? What would happen if you made a mental and spiritual shift with your money confidence finally allowing the money to flow to you?
Join us for our FREE Live Workshop: Feng Shui Your Money Goals for 2015 Creating Space for Abundance.
By using the tools of Feng Shui, we can look at your relationship with money through the lens of your space and environment.
It will give you a new perspective that will do away with your old habits and usher in a new positive relationship with your money.
In this workshop you will learn:
How to shift the energy around you by clearing the clutter and organizing your financial papers and accessories to increase your money confidence and become a money magnet.

How to remove the money blocks from your mind and home. It's not enough to just focus on a number you need to get clear on the root belief that blocks money from flowing into your life.

Learn what key areas of your home represent your financial status and how to correct any areas that may create money leaks.

Discover the 2 simple steps that will help you to begin to accumulate more money.
Timing is everything! Embrace this new year with a positive mindset around money. Sign up today! Space is limited.
It's not enough to just to set a goal to change your money status, you must change your relationship and shift your energy, mindset and environment to allow the money to flow in.
Space is limited and you must RSVP!
_______________________________________________________________________
August 11th and 12th

***********************************