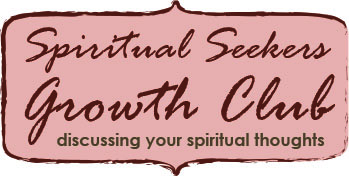 My Spiritual Seekers Growth Club is NOW a year-long group program to meet your spiritual growth needs!
Are you a spiritual person?
Do you enjoy reading spiritual self-help books and feel ready to go deeper?
Do you have trouble completing your books or implementing what you learn?
Do you wish you had friends with whom you can share your inner shifts and discoveries?
Do you sometimes feel lonely in your journey and wish you had more companions on the same path?
Well I have the opportunity for you! Two months ago, I introduced a new program called, Spiritual Seekers Growth Club, a spiritual connection club designed to help you create a better spiritual practice by discussing and implementing the concepts and ideas you are learning.  It was such a success and clearly met many of your needs that I have decided to continue the group on a monthly basis.
The Spiritual Seekers Growth Club is a place where you can ask your questions, seek clarity and help others in their process as well. When we come together with open minds and a commitment to heal ourselves and others we create miracles.
We will meet the second Tuesday of each month as a way to help you commit to deepening your spiritual practice, implement what you are learning and embrace the tough challenges that you can meet along the way.  I'm going to teach you how to deal with the spiritual roller coaster.  To move on to the next level we need someone to support and guide us through the ups and downs.  This group will provide that level of support.
My spiritual practice began in my early 20's with a book called Anatomy of the Spirit and it began a journey I had no idea where it would lead.  As I completed one book another would appear and so on and so on.  These learnings ultimately led me to Feng Shui as a career – something I would have never dreamed of. My Feng Shui journey has guided me to not only shift the environments of my client's homes and offices, but also toward personal spiritual healing. What I know to be true is that combining the inner work and the outer work creates radical shifts in our mindsets and lives, but getting there isn't always easy.
After years of my own spiritual journey, I know that you have to practice this daily to see results. I continually listen to recordings and read daily. I have  a spiritual practice I commit to every morning and am currently a student of the Course of Miracles –  one of the most powerful books I've ever read!  This book has truly connected all the pieces of the puzzle and shifted my life in ways I never expected.  When you are on this journey you must open yourself up to whatever presents itself, the good and the bad.  With regular, daily practice it gets easier but we often need support and guidance to keep us on the path.
Why Spiritual Seekers Growth Club?
My clients are asking for a community where they can grow spiritually. They desire a place to better understand what they are learning, to ask questions and seek guidance. Joining together in a loving space for one hour a month says you are ready to commit to the process.  Once you commit, you will begin to experience healing and discovery. Each class is designed to support you and give you the opportunity to deepen your spiritual practice.
This is a wonderful opportunity for you to find a community of other spiritually minded people who want to grow in the same direction. My work with clients has taught me that we all are growing through the ups and downs of dealing with love, money, health and more.  I decided to develop this program after working with clients who enjoy the spiritual aspect of my Feng Shui work and want to go deeper but don't know how.
My initial launch of this program – a six week course – provided a great foundation to spiritual growth and a spring board for this next ongoing phase of the club.  I was able to see how many of my clients benefit from this group setting and am excited to extend the offer to more of you who might find it easier to commit to a monthly program vs. weekly.
How does it work?
My Spiritual Seekers Growth Club will be a year long  program that will meet the 2nd Tuesday of each month.  We will be touching topics like forgiveness, love, wealth and health.  These classes are inspired by my own spiritual discoveries from Caroline Myss, Marianne Williamson, Wayne Dyer, Abraham and Hicks, Course of Miracles, Taoism, and more.  I will share what I have learned from the often repeated messages of these teachers.  You will find that the concepts are all similar but with different techniques. I will be sharing what works and what doesn't.
All classes will be  60 minutes, The first 45 minutes will be a lecture on the topic of the week, the last 15 minutes will be your opportunity for Q and A. This will be your time to seek guidance, ask your questions or share your experience with others. When you ask questions you are not only asking for yourself, but for others who are seeking the answers as well.
Please note, you can email me all your questions in advance if you would prefer not to speak live on the call or if you know you cannot attend that class.  However, you would like to initiate a live conversation, please email me that as well so I can make sure to open up the conversation on the call.
So this is how it will work.  You have the option to join the SSGC as an Annual or Monthly Member.
Annual Membership:  Purchase the entire year up front for just $150.00, that's 12 classes for the price of 10!  
Or,
Monthly Membership:  Enroll on a monthly basis for $15.00 per month. You will be automatically billed monthly.**
I recommend committing to all 12 – just 1 hour a month – to gain the maximum benefit from this program and to help you commit to your own spiritual growth but marking it on the calendar now!
Plus, as an active member (either Annual or Monthly) of the club you will receive special MEMBER BENEFITS!  As long as you are a purchasing member of the club, you will receive the following:
10% off ALL my products and services during the length of the program
Recordings of the first 6 SSGC classes

Topics include:  Forgiveness, Fear, Gratitude, Love, Abundance and Miracles

Monthly "Tranquility Recipes" –  based on the month's topic, you will receive 2 "recipes" which may include meditation exercises, Feng Shui recommendations and more.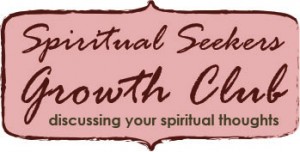 Program details…
Club continues:  Tuesday, November 12, 8PM EST/5PM PST
Tuesday, December 10, 8PM EST/5PM PST
Tuesday, January 13, 2014, 8PM EST/5PM PST
Tuesday, February 11, 8PM EST/5PM PST
All classes will meet on the 2nd Tuesday of every month, unless otherwise noted.
Program Packages:
Enroll on a monthly basis for  $15.00/mo. – billed monthly, cancel any time.
Purchase all 12 for $150.00 (12 for the price of 10)
 Program Schedule: 
Class 1:
Embracing the gift giving season with love and joy
Tuesday, November 12,  8PM est/5PM pst
The holidays are supposed to be a time of joy, celebration and family fun. But it's stressful when your to-do list gets bigger and you prepare to gather with family you don't "love" to be with. Your house feels cluttered with gifts and decorations and you begin to feel like you have no place to escape. In this class, I will discuss how to protect your energy and the energy of your space from the negative stress of the holidays. I will give you tips on managing your "money energy" during these months and prevent yourself from going into debt. Learn how to decline party invites and decrease your gift giving list. This call is powerful!
Class 2:
Stop depriving yourself of success:  Its time to celebrate you and only you can do that!  
Tuesday, December 10, 8PM est/5PM pst
Yes, you are guilty of taking care of everyone else and not yourself! You are out shopping for gifts making sure everyone is happy but what about you? Not taking time for you doesn't make you a better person, it actually keeps you from being true to yourself and to others.  If you are running on empty no one benefits. You need to celebrate you, learn how to receive because when you don't receive you are pushing away love, abundance, joy and so much more. In this class I will teach you ways to celebrate you and your success daily.  It will help you recharge your batteries and receive the love you deserve. Once you do your world will be transformed.
Class 3:
Why its so important to value yourself and change your world!
Tuesday, January 13, 2014 8PM est/5PM pst
Do you have clear list of your values? Do you implement these values in your career, relationships, family, health and wealth? How about making this year being the year you value yourself! When you don't value yourself, you pay the price with challenging relationships, money problems, a career you don't love or weight issues. In this class I will help you get clear on your values and how to implement step by step changes in your space, your relationships, finances and career.
Begin your journey now…
Sounds good, doesn't it?  So, what are you waiting for?  Sign up now.  End the year with personal growth and success and carry it on into 2014! Begin your journey to spiritual healing and discovery, all with a like-minded community!
We just need to take one step and then another on our journey.  Make this first step today!
Yes, I want to join the Spiritual Seekers Growth Group and I can't wait to do all 12 classes! (12 classes for $150)

Yes, I want to join the Spiritual Seekers Growth Group but will take it one month at a time by enrolling in the monthly program! (for $15/mo – automatically billed monthly)

**SSGC Membership Cancellation Policy:   Monthly Memberships will be billed once a month.  To terminate membership, member must cancel prior to the next month's call.  The previous call will not be refunded.  To terminate an Annual Membership, member must cancel prior to the next month's call and the balance of the year will be refunded.  
***********************************