Healthy Lifestyle Makeover Audio Program
  21 Strategies to Eat Right, Lose Weight and Increase Your Energy

MP3 60 Minute Audio Program $47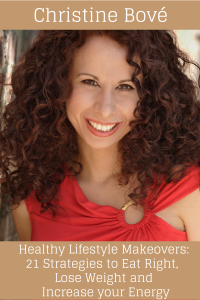 Get your health back on track in just 21 days!
I am introducing my New Healthy Lifestyle Makeover audio program!  It is a downloadable program filled with 21 solutions to get your health and life back on track.
What you eat matters! You know that! In fact, I bet you know what you shouldn't be eating, what you should be doing for exercise and that you need a better solution to manage your stress.  But, life gets in the way, from work to relationships to the everyday needs of life.  We get distracted and or healthy eating, exercising and meditation habits go right out the door!
Ironically, this is the time you need to follow these habits, but you're tired and overwhelmed and you just can't figure out how to get back on track.
Well, I have the good news for you!
I've been in your shoes, and I have coached many women who have been in your shoes and I've helped them get their health back on track. The truth is you don't need a lot of time or long hours of reading books on stuff you already know.  I've pulled together the top 21 solutions to get your health back on track and I've made it easy for you.  Its all in a 60 minute downloadable audio mp3 file that you can start listening to today!
My Healthy Lifestyle Makeover comes with many solutions for you to manage your health.  I don't just give suggestions for your diet, I've also included a variety of simple action steps you can easily implement into your life over the next 21 days to help you stay on track.
One of the biggest mistakes people make is that they think it is enough to change their diet but they don't realize there needs to be lifestyle changes as well like re-organizing your pantry and decluttering your kitchen!
You've probably heard it takes 21 days to create a new habit. The key is taking the right action steps everyday and feeling the change in your life.  I have created simple solutions for you that will help you take these steps without the stress.
If you want to claim back your sexy body and healthy lifestyle than this is the program from you!
What will you get with my Healthy Lifestyle Makeover? In this audio downloadable 60 minute program I'm going to teach you:
The tops foods to avoid and what foods to replace them with

How to eliminate wheat, gluten and dairy without feeling deprived. I even include a bonus list of the best alternative foods from snacks to desserts.

Why you need to throw your scale out and stop counting calories

How to listen to your body and let your body tell you which foods it needs

Why you need to Feng Shui your kitchen to maintain your health and the one other area in your home that needs a Feng Shui makeover

Simple solutions to daily snacks and dining out

How to create a morning routine with meditation and exercise in less than 30 minutes.

Why your skinny clothes are keeping you fat and why I recommend you update your wardrobe

How to get a full nights sleep to lose weight and de-stress

Which supplements to buy and how not to overwhelm your system
Here's the best part, this program is designed for you to listen to over and over. So when you're getting off track or had a bad day you can just turn on the audio and boom you are back on track.  We all need our teachers in our back pocket with daily solutions we can turn to when we need them!  Like, what's the best thing to do after a day of eating too many sweets? I share that solution in the program.

Plus, you'll get a BONUS handout with all my favorite clean foods, tips on what to bring to parties and more…
Wait, I have one more bonus for you! A 50% OFF COUPON when you purchase one (1) Personalized Healthy Lifestyle Makeover Session with me, valued at $197.  This is a 60 minute personalized session with me regarding your specific health and lifestyle needs.
This is just the beginning of my Healthy Lifestyle Makeover Audio program.  I will be introducing more audios lessons just like this one to help you create the healthy life you want.
It's starts with your health, no matter how many Feng Shui adjustments  you do to your space you need to shift how you fuel your body to make any lasting differences in your life!
Are you ready to get started?
Purchase your MP3 Audio File below for only $47!  Purchase now and receive a 50% off coupon for your next audio purchase.
MP3 60 Minute Audio Program $47
"21 Strategies to Eat Right, Lose Weight and Increase your Energy"