Money Makeover Secrets: How to use the Secrets of Feng Shui to Increase Your Income
MP3 90 Minute Audio Program $47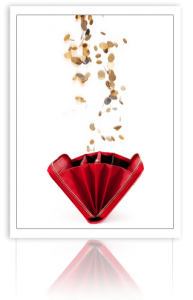 You've got a personal style that's unique to you, but did you know you also have a money style? Sound bizarre? But its true.  Take a look at your current relationship with your money. Are you dating or in a steady committed relationship? Do you know where your checkbook is right now? Where do you keep your financial papers?
I'm not asking you the typical money questions, rather I'm talking about money from another perspective. One that looks at your mindset and thoughts about money.  By using the tools of Feng Shui, we can look at your relationship with money through the lens of your space and environment.
I have provided my 90 minute "Money Makeover Secrets" class as an easy to download audio file that you can listen to over and over again.  I will take you on a journey through your mind, home, wardrobe and shopping behaviors to reveal your relationship with money. By the end of this audio program I will have helped you reveal a new perspective that will do away with your old habits and usher in a new positive relationship with your money.
Here is what one participant had to say:
Thank you, Christine!

I love the changes you have inspired in my life.  I have applied your suggested Feng Shui principles to my money, my bedroom and my office.  All of this has just come from watching your videos, listening to your audio classes and receiving your emails.  I can't imagine what changes I can make when I work with you full time.  I can't wait!

My money perspective has certainly changed!  I have an affirmation card in my wallet, a pretty purse from a cosmetic bonus with organized coupons, a shiny sparkling red gift bag in which I keep my checkbooks (still looking for a pretty box), red envelopes in which I am saving money for special things and a very organized wallet.  I feel a renewed confidence about money and I do not seem to be running out each week as I was in the past.  A surprise bonus was that I just received an unexpected check for over $2000.00 from my son's camp!

- Janice Wantagh, NY
My "Money Makeover Secrets" audio program will teach you how to do the following:
Identify your beliefs about money and how they could block more money from coming into your life

Cultivate an attitude of forgiveness and gratefulness

Use the tools of Feng Shui to learn where you may have money leaks or difficulties accumulating wealth

Discover what to wear when you are asking for a raise or taking a big financial leap

Learn how to organize your wallet, checkbook and financial papers to keep your money flowing.

Make your own money box and create a stylish, fabulous place to do your money tasks.

Become a savvy shopper and learn the secrets to getting deals that will make you look like you've spent a mint.
This class is fun and therapeutic, teaching you how to shift your mindset, de-clutter your space, repair any money leaks and help you look like a million bucks (without spending it)!

As a bonus, you will receive a guide filled with images, affirmations, and resources on where to buy items for your home and wardrobe. 
By refining and defining your relationship with money, you will build a better foundation for your future and the opportunity to welcome more abundance into your life.  Listening to this audio program is the start in that direction.
Join me as you seek to build a new, stronger relationship with your money.  Download it today for only $47!
MP3 90 Minute Audio Program $47